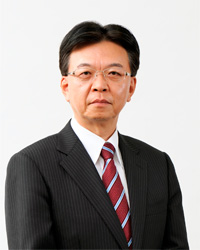 We are deeply grateful for your support over this past year.
The Furukawa Company Group has focused on improving its financial structure by effectively implementing measures for structural reforms based on choices and grouping.
In March 2005, Furukawa Co., Ltd. was converted into a business holding company and business segments were spun off into subsidiaries with integrated production and sales operations. These measures have made it possible for us to respond to the rapidly changing management environment more quickly and effectively. It also became possible to rapidly adapt our decision-making processes to more closely align with a business environment consisting of related goods across a broad range of product groups. Through these efforts, the Group has accelerated its progress toward maximum corporate value.
These structural reforms enabled us to achieve, ahead of schedule, the goals for net sales and operating income incorporated in the three-year Medium-Term Management Plan (from April 2005 through March 2008). At the same time, the reduction of interest-bearing liabilities is also on track. In addition, the entire Group is striving to expand the content of business operations and improve business performance by engaging in creative, high value-added products and services at a global scale.
We intend to continue our business reforms to establish efficient management structures and increase corporate value and become a business that contributes to the creation of an affluent society. Furthermore, we will enhance our corporate governance by pursuing rigorous compliance and strengthening our internal management structures in order to conduct our corporate activities with integrity and responsibility from the perspectives of both society and corporate ethics.
With your continued encouragement and patronage, we are prepared to meet every challenge and achieve our full potential.