Research and Development Activities
We conduct research and development to solve customer issues based on marketing-based management.
Advanced technology development utilizing IOT and AI technology.
Development of new materials such as solid electrolytes.
A research and development structure that creates new value by enhancing the Group's function as a leader in technology.
The Technology Division comprises four units - the Technological Strategy Department, the Advanced Technology Department, the Material Research & Development Department, and the Intellectual Property Department - all of which work together to promote development while maintaining cooperation with the entire Group.
Organizational Structure Chart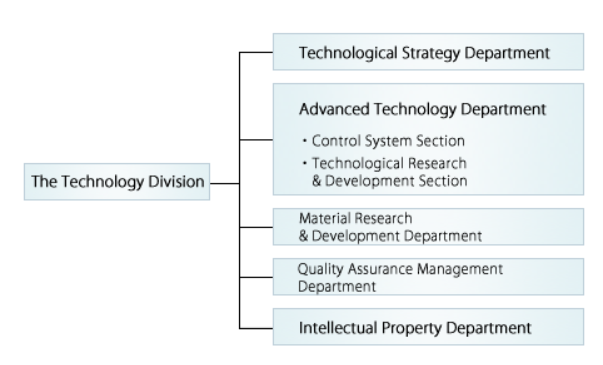 Research and Development Structure
Technological Strategy Department
We coordinate overall R & D activities and play a role in proposing the development of next-generation products and new materials in line with the demands of the time while being aware of social trends and market needs, such as planning new product development based on marketing. Furthermore, we also plan educational programs for the human resource development of engineers involved in research and development.
Advanced Technology Department
In an effort to enhance the added value and functions of products of our core operating companies in the Machinery segment, we are promoting the development of distinct intelligence technology (AI technology) that leverages the latest sensor technology for data gathering and processing, controls, telecommunications, and more. We develop these systems to provide our machine products with the capacity to automate, save labor, and optimize operations. This system development also leads to improved after-sales services that leverage the various data. We are also promoting development that flexibly combines the organizations of projects dedicated to various aims, including expansion aiming to develop marine resources and recycling technology for mining development - the origin of our Group and the foundational technology of our machines.
Advanced Technology Development
| | |
| --- | --- |
| Communication contro | We are promoting the development of the basic technologies required by the core operating companies. |
| Simulation | We are promoting product development lead time reduction and failure analysis. |
| Automation technology | We are promoting development that can contribute to the advancement of machine products, including with AI (Artificial Intelligence) technology. |
Material Research & Development Department
We work with our core operating companies in the Materials segment to select themes of material development and promote development based on clear strategies. We are also taking steps to develop metal materials that contribute to enhancing the added value of products of our core operating companies in the Machinery segment.
Material Research & Development
| | |
| --- | --- |
| Battery materials | We are promoting the development of materials for all-solid-state batteries, for which there are great expectations as the next-generation batteries for electric vehicles (EVs), etc. |
| Copper powder-related materials | We are promoting the development of fine metal copper powder with a sharp particle size distribution produced by the wet process. |
| Metal materials | We are promoting the development of materials for use on our own machinery products. |
Quality Assurance Management Department
We promote centrally managing important information related to quality assurance of the entire group's products and enhance the company-wide quality assurance system. Furthermore, we are also in charge of human resources education activities, such as basics quality education of contents common to both mechanical and material systems, for all employees to carry out their duties with the constant awareness of quality assurance.
Intellectual Property Department
We manage patents and other industrial property rights regarding the new products and materials of each company in the Group. The department also maintains an accurate understanding of research and development outputs and promotes the establishment of industrial property rights in an effort to maintain the competitiveness of our products and services.
Adress : 6-4, Otemachi 2-chome,Chiyoda-ku,Tokyo, 100-8370, Japan.
Phone : +81 3-6636-9510
Inquiries about Research and Development