Our provision of high-purity, high-quality key materials supports cutting-edge IT and electronics technologies.
We maintain a high share of the market for high-purity metallic arsenic both in Japan and overseas.
Production of line filter cores and coils for automotive use.
Demand is expanding for the heat dissipating member material aluminum nitride ceramics
High-purity metallic arsenic
High-purity metallic arsenic of which we have a large share in the global market is used to make gallium arsenide semiconductors.
We focused on characteristics early on and we have been mass-producing the world's purest high-purity metal arsenide at 99.999995% (7N5).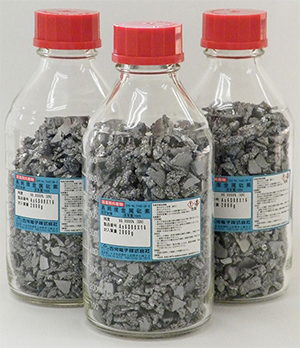 Aluminium nitride
Aluminum nitride ceramics are highly thermal conductive, thermal radiative and have a good electrical insulation property. They are used in components for semiconductor manufacturing equipment, substrate materials and fillers, and more as their applications are expanding.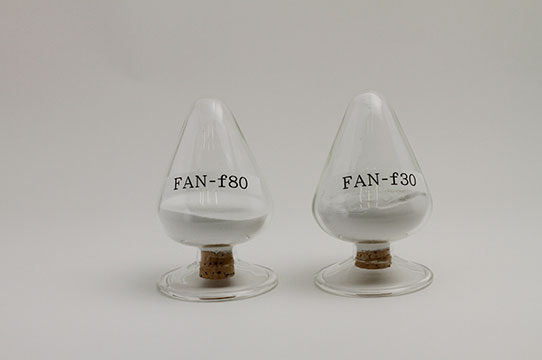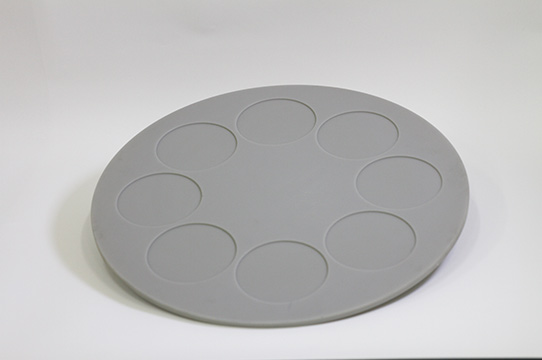 Core coils
We manufacture and sell coils by utilizing technology that enables the in-house production of cores. These are used in applications such as automotive ECUs (electronic control units) and power supplies, HEV (hybrid vehicle), and EV (electric vehicle) converters.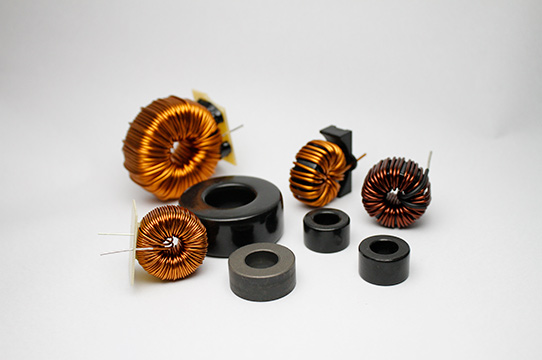 Furukawa Denshi Co., Ltd.
We manufactures and distributes electronic materials that are indispensable to the evolution of a sophisticated information society such as high-purity metal arsenic which is a raw material for gallium arsenide semiconductors, all kinds of crystal products including gallium phosphide polycrystals, core coils, aluminium nitride ceramics and lenses for lasers.
The Group's electronic materials business was founded in 1961 when we began the only domestic research into high-purity metal arsenic. We are currently the only Japanese manufacturer of high-purity metal arsenide, having built up an unshakeable position in the market and we meet most of the demand in Japan as well as exporting large quantities overseas.
In 2005, the Furukawa Co., Ltd. electronic materials business was spun off and Furukawa Denshi Co., Ltd. was established.
Our products are not usually visible to the human eye, but they are all essential for the functioning of modern society. By continuing to develop materials that protect people's lives and play a part in enriching those lives, we will contribute even more to society. In order to do this, we will work on cultivating and reinforcing sales for not only mature products but also for strategic products.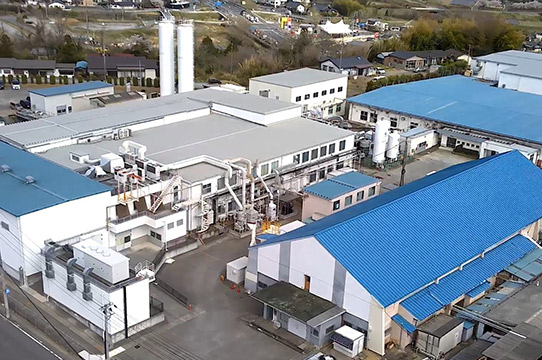 Iwaki Semiconductor Co., Ltd.
Established in 1982, specializing in the manufacture and distribution of gallium phosphide and gallium arsenide single crystals and substrates and other products.
Established in 2014. Headquarters in Bulacan Province in the Philippines specializing in the manufacture of coils.
Electronics product that enhance sophisticated electronic devices.
One indispensable element of the development of information technology is the gallium arsenide semiconductor which is used in mobile phones, LDs and LEDs. High-purity metal arsenide is one of the raw materials used in their manufacture. We focused on characteristics early on and we have been mass-producing the world's purest high-purity metal arsenide at 99.999995% (7N5). We are currently the only manufacturer in Japan and we also hold the highest share of the global market.

In recent years, demand for heat-dissipating materials has been growing as electronic devices become increasingly sophisticated, integrated, miniaturized, and thinner. Heat-dissipating materials are essential to prevent abnormal operation of electronic equipment by releasing the heat generated internally to the outsideair. They are used in high-capacity communication devices and equipment, including smartphones and PCs, as well as in inverter devices for railway cars, communication base stations, semiconductor manufacturing equipment, next-generation automobiles (such as hybrid cars and EVs), and the like.
Heat-dissipating ceramics materials include aluminum oxide (Al2O3) also known as alumina, aluminum nitride (AIN), and silicon carbide (SiC). In the market, alumina, which is inexpensive, has the largest share, while aluminum nitride, which is xpensive and highly functional, still has a small share. Features of aluminum nitride include high thermal conductivity, insulation (does not conduct electricity), heat uniformity, and corrosion resistance. Accordingly, it is now being used in semiconductor manufacturing equipment, parts, and devices where these features are particularly needed. We expect demand for aluminum nitride as a heatdissipating material to increase amid the growing performance requirements of 5G and other communication devices, expansion of data centers, and proliferation of power semiconductors and next-generation automobiles, as well as the rising performance requirements of semiconductors, electronic devices, and otherequipment and terminals.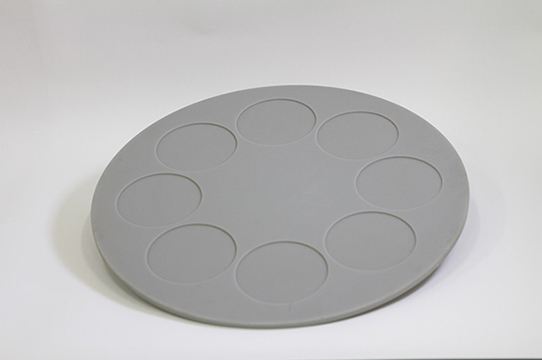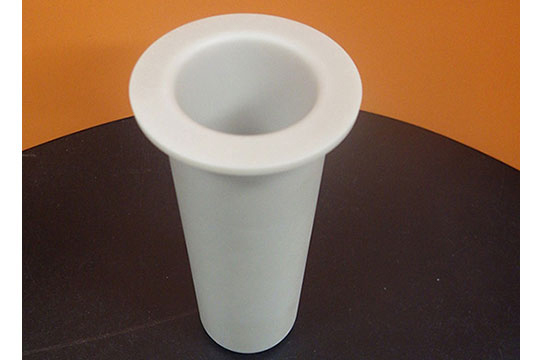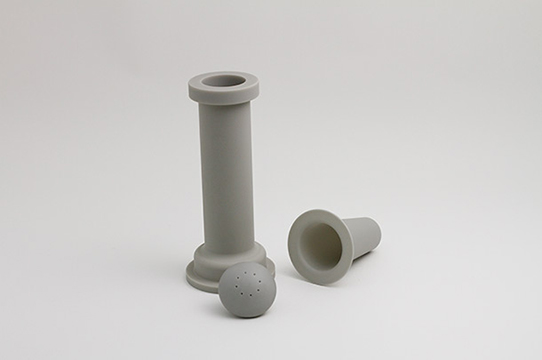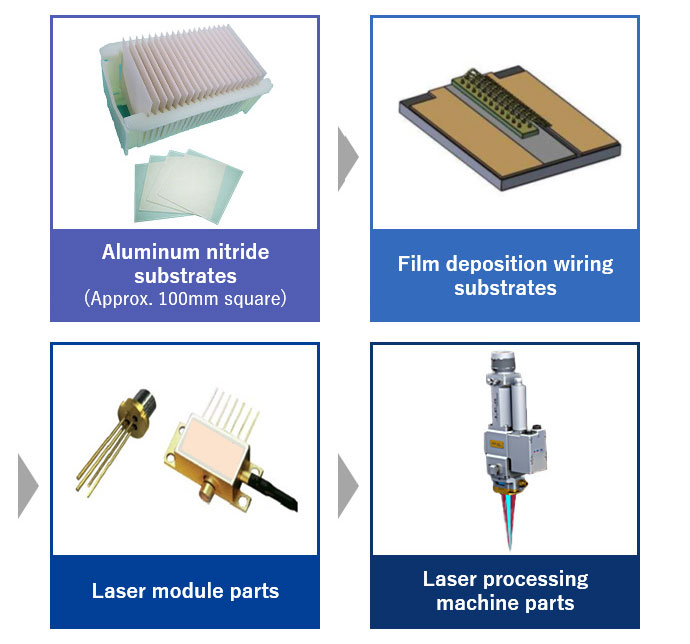 Our Electronics Division has built a production system for molding, sintering, and processing procured aluminum nitride raw materials (powder). We also manufacture and sell aluminum nitride components, substrates, and fillers for use as heat-dissipation materials. Our strength lies in the sintering technology we have accumulated over the years, including with respect to sintering time and temperature adjustment. Our proprietary technologies and know-how enable us to manufacture worldclass large-scale items that are resistant to warping, cracking, and discoloration factors that often arise during the sintering process.
In the domestic ceramics industry, therefore, we are well-known as a contract manufacturer of aluminum nitride products. In addition, we have a lineup of four grades of sintered aluminum nitride products (components and substrates) - with thermal conductivities of 90W, 170W, 200W, and 230W - to meet customer needs. In fact, we developed and launched the highest-grade product, with thermal conductivity of 230W, ahead of other companies. Currently, we are developing an even higher-grade sintered material with a thermal conductivity of 250W.
We expect market demand to continue growing. In response, we are increasing our production capacity, having added one sintering furnace. We will continue leveraging our proprietary technologies to offer a range of high-quality products centered on aluminum nitride.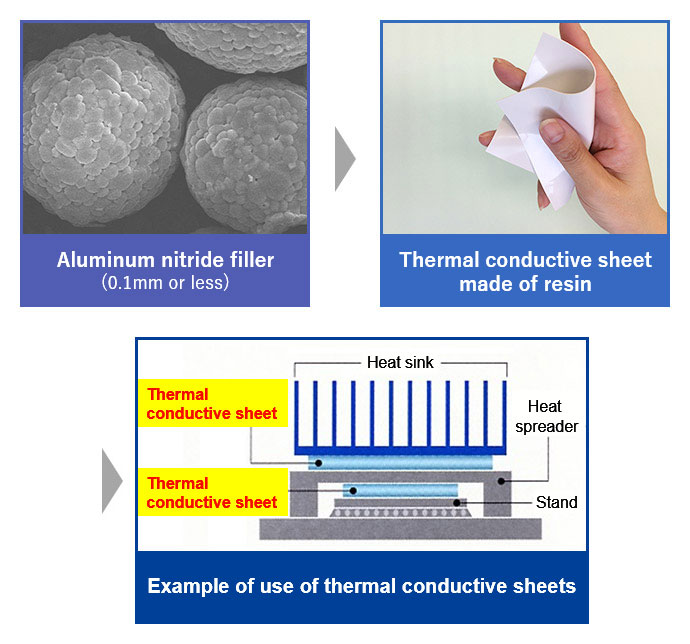 Inquiries about Electronics
Inquiries about Electoronics
Products , Service
High-purity metallic As / GaP polycrystals,/ High-purity compounds (Arsenide, Calcogenide) / Cores and coils (reactors, filters) / AlN ceramics(sheets, fillers) / Optical products(laser-use lenses and mirrors / infrared opticals)/ Diffractive-optical elements(DOE)