Machinery
Industrial Machinery
From the foundation of the mechanical technology we cultivated in copper mining, we have established a solid position as a specialized manufacturer of industrial machinery.
Domestic demand accounts for the majority of our sales and remains stable.
Support not only for individual product sales, but also for the partial construction of plant sections, including pumps and materials machinery.
Infrastructure Division accepting orders for everything from design to construction, such as for steel bridges and belt conveyors.
Pumps
These pumps are strong in the field where durability and abrasion resistance are required, such as for slurry pumps that transport liquids containing solids and sewage pumps for sewage treatment.
They are used in granulation water equipment in steel works, corrosion-resistant and wear-resistant raw material transportation equipment in non-ferrous smelters, drainage facilities at works and factories, water purification plants and sewage treatment plants throughout Japan, and shield tunnel construction sites on the Trans-Tokyo Bay Expressway (Aqua-Line).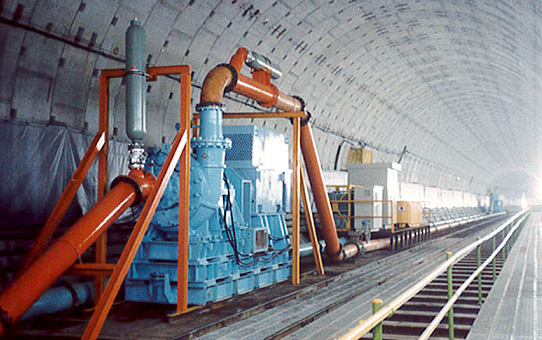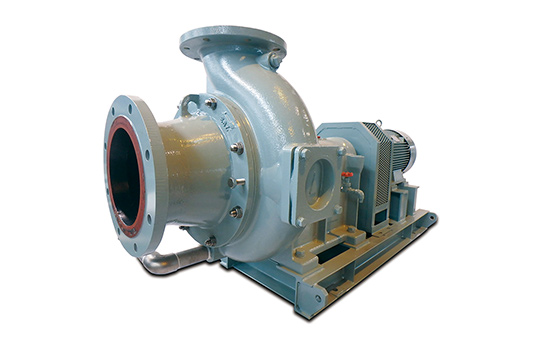 Material Machinery
We design and manufacture crushers, grinding mills and screens used in the iron, chemical, and nonferrous metal industries and at stone pits, briquetting machines used to form fuels and medicines into briquettes as well as designing, manufacturing and conducting installation work for certain parts of plants including peripheral equipment.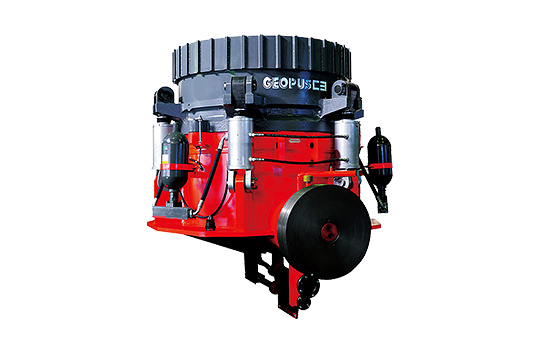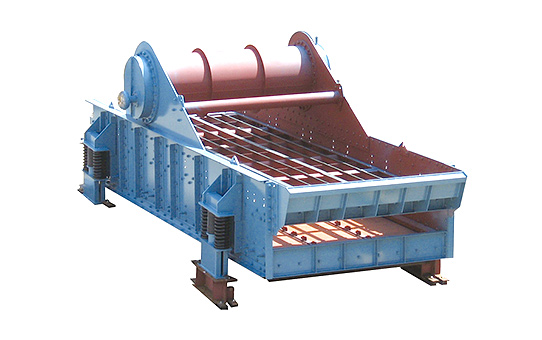 Infrastructure Division
The strength in our Infrastructure Division is our comprehensive capability to undertake all the processes from the overall design of construction work to its execution and operation management. In addition to supplying steel structures mainly in the Tokyo metropolitan area, such as for the road bridges and highway viaducts that are essential for the development of social infrastructure, in recent years we have also contributed to the reconstruction of Rikuzentakata City from the Great East Japan Earthquake, with an environmentally friendly construction method that combines technology such as crushers, steel bridges, and belt conveyors with execution management technology. Using belt conveyors for the transportation of earth and sand is attracting attention as a new method that can replace the use of dump trucks.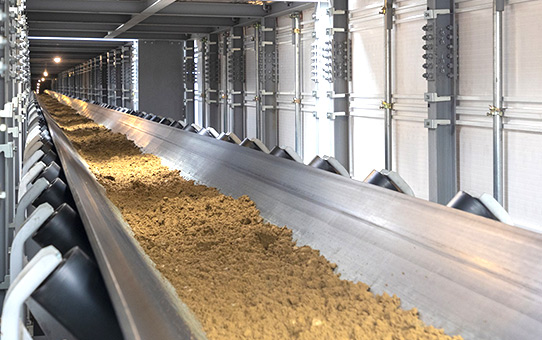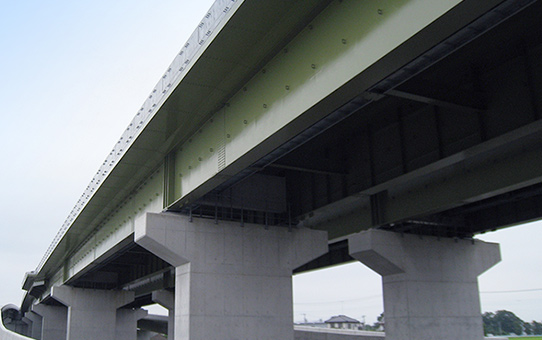 Furukawa Industrial Machinery Systems Co., Ltd.
We designs, manufactures, conducts installation work and manages operation for slurry pumps, sludge pumps, crushers, grinding mills, briquetting machines screens, steel bridges, and belt conveyors. The history of our Industrial machinery business dates back to the Mining Machinery Repair Division at the Ashio Copper Mine founded in the late 1800s. Since then, we have expanded the industrial machinery business by continuously developing various types of machinery for use in mines and innovating technologies. Furukawa Industrial Machinery Systems Co., Ltd. was founded in 2004 and took over the industrial machinery business of Furukawa Co., Ltd. in 2005. In 2006, Otsuka Iron Works, Ltd. became a subsidiary and it was merged with Furukawa Industrial Machinery Systems in 2008.
We will continue to enhance core technologies, further develop competitive products and technologies and expand the contractor business by taking orders for certain parts of plant construction and large-scale works projects and so on. In addition, we aim to shake off the label of a simple equipment manufacturer, to reinforce our engineering strengths and to work on expanding the foundation of our business in domestic markets.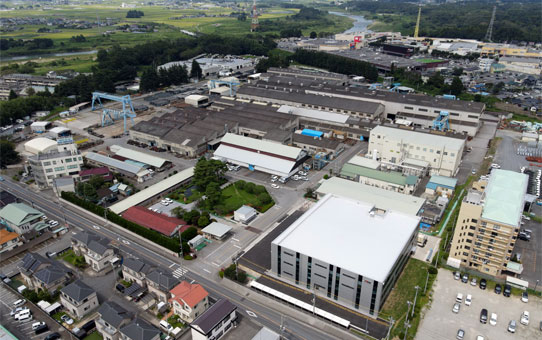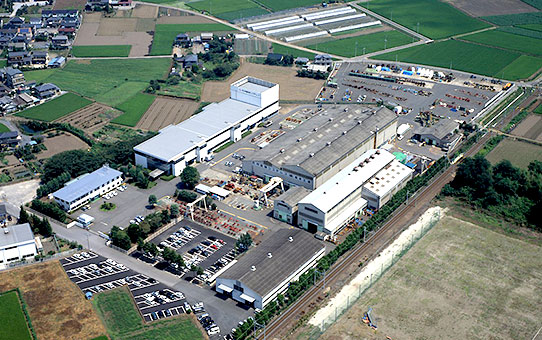 Furukawa Castec Co., Ltd.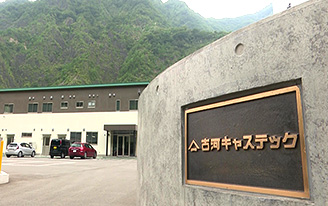 Established in 2003. Manufactures and distributes heat- and abrasion-resistant castings. The company has casting experience and technologies cultivated for over 100 years since the era of the Manufacturing Section at the Ashio Copper Mine.
Gunma Kankyo Recycle Center Co., Ltd.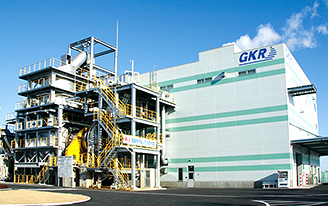 Established in 2001. Incinerates industrial waste (primarily infectious waste).
Industrial Machinery products that address social issues
Traditionally, dump trucks have been used widely to transport earth and sand generated during civil engineering and construction projects. However, the population of truck drivers is decreasing due to Japan's declining working-age population. In addition, many dump trucks come and go during the construction period, causing concern over traffic jams and accidents on surrounding roads, as well as deterioration of the local environment due to dust and CO2 emissions. To resolve these social issues, more and more companies are using belt conveyors instead of dump trucks to transport earth and sand.
In the Industrial Machinery segment, we have solid experience and transportation technologies cultivated in mine development, as well as the technical ability to make integrated responses covering design, manufacture, machining, assembly, and installation.
Utilizing these traits, we have built a proven track record. For example, our belt conveyors are used in various large-scale projects, including relocation of people to higher ground in Rikuzentakata City and tunnel construction related to the Tokyo Gaikan Expressway.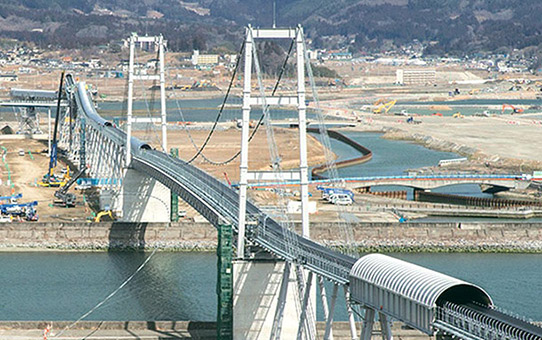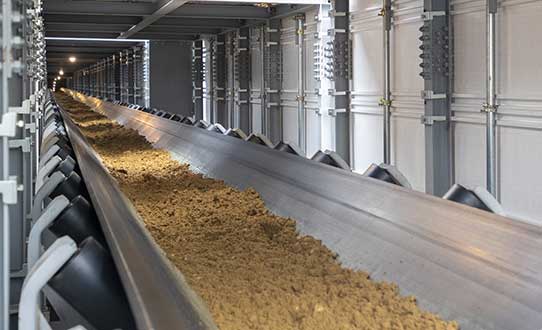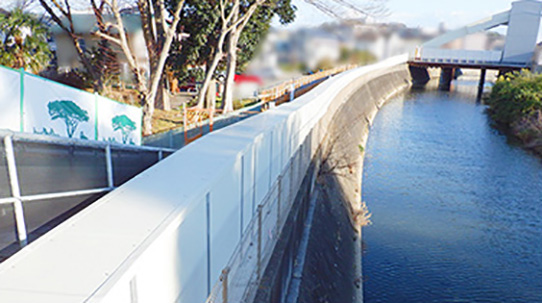 In recent years, Japan has been subject to flood damage caused by frequent large-scale typhoons and linear rain bands stemming from climate change. Indeed, record-breaking heavy rainfalls have resulted in enormous damage from river overflows, floods, and landslides. In response, various local government entities are taking measures to prevent rivers from flooding. One of these is the construction of retention basins that temporarily store water from rising rivers.
Under its Torrential Rain Measures Basic Policy, the Tokyo Metropolitan Government is planning to build the Kanamori Basin on the Sakaigawa River, which flows through Machida City in Tokyo's southwest. This project will require the conveyance of large amounts of earth and sand. Because it is adjacent to residential areas, however, there were concerns about using dump trucks for this purpose. These are related to environmental impacts from exhaust gas, dust, noise, and vibration, as well as the need to prevent accidents and otherwise ensure public safety.
In consideration of the neighborhood living environment and safety, a decision was made to use SICONR enclosed hanging belt conveyors, made by the Group's Industrial Machinery segment, to convey earth and sand generated during the project.
SICON® enclosed hanging belt conveyors will be used in the Kanamori Basin project. Unlike regular belt conveyors, materials conveyed (such as earth and sand) are wrapped in a pear-shaped "pouch" that is suspended and transported in monorail fashion to minimize spills, dust, noise, and the like. This enables materials to be conveyed quietly without being dropped. In addition, conventional belt conveyors require transfer points to accommodate changes in direction. With SICON® belt conveyors, however, the direction of the conveyance line can be changed without the need for transfer points.
By complementing its lineup of belt conveyors and other machines with engineering capabilities that bring together experience and new ideas, the Group's Industrial Machinery segment will continue working on help resolve social issues. These include the need for disaster prevention and mitigation measures, building national resilience, environmental problems, and a declining working-age population.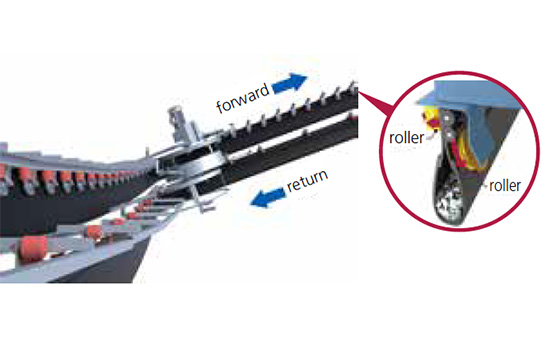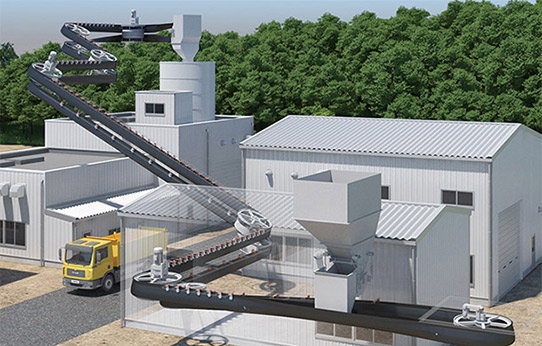 A crusher is a machine that crushes rocks and other solid materials to a desired size at quarries and other facilities in the steel, chemical, and nonferrous metal mining industries. There are various types of crushers, such as cone crushers, jaw crushers, and roll crushers, and their uses vary according to the raw material, crushing process, and end-product (rocks of desired particle size and diameter). The GEOPUS series of cone crushers, handled by our Industrial Machinery segment, are mainly used in stone crushing plants to produce aggregate for important social infrastructure, including road paving, crushed stone for concrete aggregate, and paving stone for railway tracks.
Since launching the GEOPUS series in 2000, we have continued making improvements to enhance performance and productivity.
The new GEOPUS C3 cone crusher, developed in 2019 with a view to downsizing while maintaining conventional performance, has two key added functions. The first is a crushing chamber with a new configuration that provides a smoother flow of raw materials compared with conventional machines, thereby shortening the time between raw material input to product output. As a result, the same processing volume as before can be maintained even though the machine has been downsized. We also enhanced the overall design to deliver improved price competitiveness and economic efficiency for customers.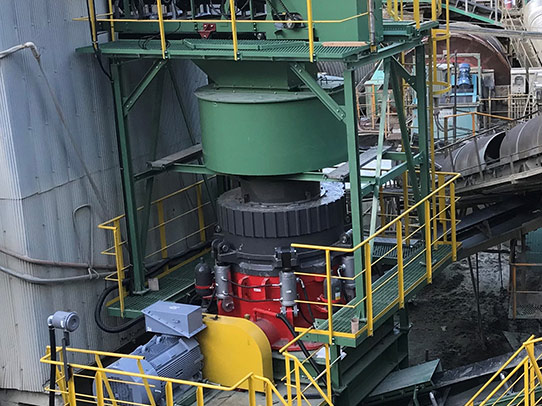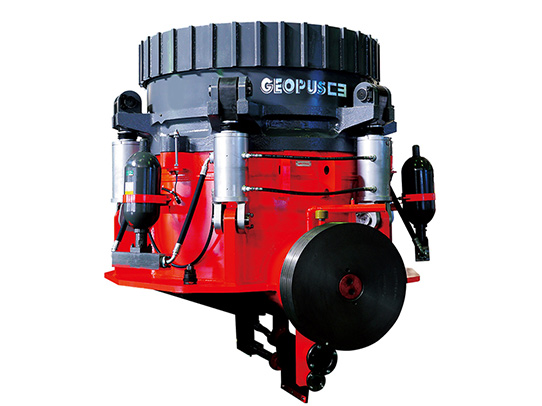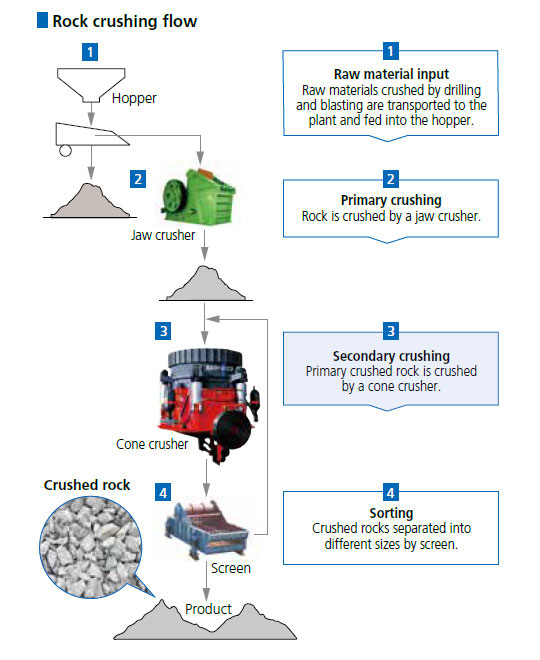 The second is a feed control function, which measures the amount of raw material added to the hopper with an ultrasonic sensor and automatically adjusts it, thus improving production efficiency. Conventional machines require some manual control by an operator, but this function automatically controls the optimal filling volume for high-density crushing, thereby ensuring stable quality and yield. In a test plant set up in cooperation with a customer, we were able to reduce the input volume of raw material by 16% compared with a onventional machine, meaning that only 179 tons of material was needed to produce 100 tons of crushed stone, instead of 213 tons, providing a substantial improvement.
GEOPUS C3 is a new cone crusher with a control function that maximizes high-density crushing and crushing performance. It is more compact than conventional machines but maintains the same throughput and delivers improved production efficiency. We are currently reviewing our customers' crushing plants and making technical proposals, highlighting GEOPUS C3 as our flagship product. We have already received positive feedback from customers, which is testament to the "marketing-based management" that we advocate and practice.
Inquiries about Industrial Machinery
Inquiries about Pumps
Products, Service
Slurry pumps / Sewage pumps / Submersible heavy-duty sand pumps / Water pumps / Special pumps / Shield construction slurry pumps
Inquiries about Material Machinery
Products, Service
Crushers / Grinding mills / Briquetting machines / Classifiers & separators / Scrap car shredders / Crushers and mills for recycling use / Material handling systems / Plants
Inquiries about Infrastructure Division
Products, Service
Electrostatic precipitators / Filtration-type(bag filters) precipitators / Highly-effective filte- type precipitators / Electric precipitators for tunneling work / Harmful gas processors / Water treatment equipment / Steel structures / Steel bridge / Other steel structures