Framework for Promoting Enterprise Risk Management System
The Furukawa Company Group has established a Risk Management Committee at FURUKAWA CO., LTD. to deliberate on important matters related to enterprise risk management. With this Risk Management Committee, the Group strives to establish and strengthen its enterprise risk management system in order to protect human life or property and minimize damage or loss when such risks that could adversely affect the Group's business activities materialize.
The Risk Management Committee is held twice a year in principle and chaired by the Company's Director in charge of Sustainability, with the Sustainability Promotion Department serving as the secretariat. The committee's main role is to deliberate on various issues related to enterprise risk management, including the formulation of basic policies for enterprise risk management, the development and strengthening of systems, the identification of potential risks, as well as the examination, evaluation, and improvement of countermeasures to report the results to the executives.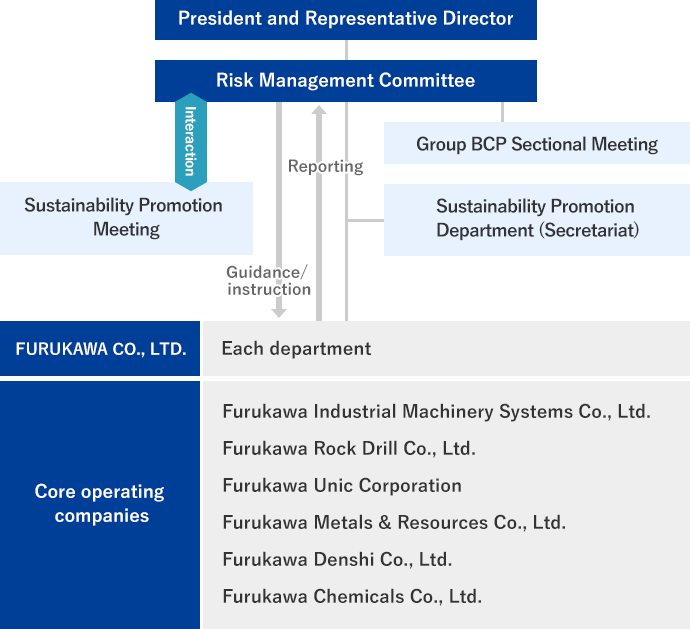 Implementing Business Continuity Planning (BCP)
Developing Preventive Measures for BCP
To prepare for emergency situations in which normal means of communication are not available, we are establishing transceivers at key locations and reviewing the content and management methods of emergency supplies including food and beverages.
Conducting Safety confirmation drills and Disaster reporting drills
We regularly conduct both safety conformation drills enlisting our safety confirmation systems and disaster reporting drills with the use of transceivers in order to ensure that we are able to promptly confirm employee safety and the status of damaged sites should an emergency occur.
Implementing Business Continuity Management (BCM)
Core operating companies have finished formulating BCP, and have begun making partial revisions to respond to organizational changes and the like. From now on, we will also devote energy to implementing BCM.
Initial Response Manuals, and Implementing BCP

We have finished formulating initial response manuals, and have now turned our attention to implementing BCP.
Group-wide Identification of Potential Risks

We are identifying the potential risk of earthquakes, floods, landslides and the like at key locations and moving ahead with the formulation of BCP with regard to risks that could substantially impact our business.
| | Head office | Oyama Tochigi Works | Takasaki Yoshii Works | Sakura Works | Osaka Works | Iwaki Works |
| --- | --- | --- | --- | --- | --- | --- |
| Earthquakes | ◎ | 〇 | 〇 | 〇 | ◎ | ◎ |
| Floods | △ | 〇 | 〇 | × | 〇 | × |
| Landslides | × | △ | × | × | × | × |
| Tsunami | × | × | × | × | ◎ | × |
| Typhoons | 〇 | 〇 | 〇 | 〇 | 〇 | 〇 |
Degree of potential risk: ◎High ○Medium △Low ×Significantly low