Quality Assurance Management System
The Furukawa Company Group revised its quality assurance management system in fiscal 2021. In order to establish a system that assures customers of reliable product quality in addition to safety, the Product Safety Committee established within the headquarters of Furukawa Co., Ltd. was changed to the Quality Assurance Committee. Additionally, the Quality Assurance Management Department was newly established within the company's Technology Division in order to promote activities for quality assurance and product safety and to manage the Group's quality assurance system.
Under Quality Assurance Basic Policy and Quality Assurance Action Guidelines, which were enacted concurrently, the entire company will come together in an effort to provide manufacturing and services worthy of customers' trust and satisfaction.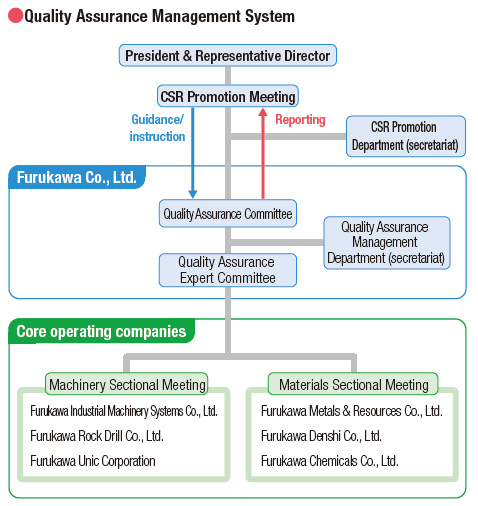 Quality Assurance Committee
The Quality Assurance Committee oversees the Quality Assurance Expert Advisory Council-a gathering of people responsible for quality assurance in core operating companies-and organizes sectional meetings dedicated to machinery and materials to undertake activities in their respective segments. These organizations under the Quality Assurance Committee promote compliance with laws and regulations on manufacturing, quality assurance, and product safety, and the manufacturing of products that customers can use with a sense of safety and security. Additionally, risk assessments and other activities for improving product safety levels are continuing with the understanding that quality assurance is an integral part of product safety.
Machinery Sectional Meeting
The Machinery Sectional Meeting is continuing to promote efforts to "reduce complaints" and "monitor production change points" under the concept of "making products that satisfy our customers." The sectional meeting is making efforts to share information about methods of analyzing and reducing complaints and toward the horizontal spread of the methods themselves between places of business. To prevent change points on the production floor from generating defects and complaints, the sectional meeting is establishing a mechanism for a flow that starts with visualization and proceeds through change point aggregation, prevention planning, execution of prevention activities, and verification in that order.
Materials Sectional Meeting
Based on a customer-oriented approach, the Materials Sectional Meeting-which comprises core operating companies whose products are materials that are widely used in electronic devices and other products-is taking steps to improve the quality assurance system encompassing components procured overseas with the goal of achieving zero market complaints. For risk assessment at core operating companies in the materials business, the sectional meeting provides information about risks in SDS*1 and the like in addition to fully understanding the major risks of allowing defective products into circulation, and efforts are made to prevent such circulation by promoting the automation of inspections and highly reliable designing through FMEA*2 focused on change points control. The Materials Sectional Meeting shares this information and engages in activities aiming to enhance the skills of each company.
*1

SDS: Abbreviation for Safety Data Sheet.

*2

FMEA: Abbreviation for Failure Mode and Effects Analysis. A systematic analysis method that predicts the causes of quality problems and prevents them at the design and process planning stage.