Identifying CSR Priority Issues
The Group identifies CSR priority issues and reinforces its CSR activities to ensure that its business activities contribute to society in the broader sense. To identify priority issues, we selected important CSR-related issues from the perspectives of both stakeholders and the Group, then analyzed and evaluated the importance of those issues and finalized the Group's CSR priority issues.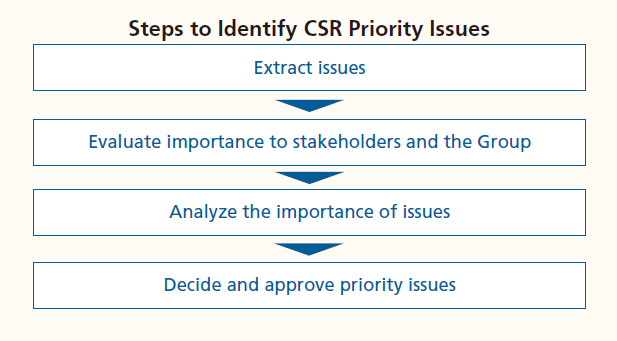 Priority issues regarding CSR
Developing a robust corporate governance framework
Enhancing compliance
Providing products and services that engender customer satisfaction
Promoting environmental conservation initiatives
Creating pleasant workplace environments for employees with fair performance evaluations and incentives
Building fair and just business relationships and reciprocal trust with suppliers
Promoting corporate social responsibility
Communicating with shareholders and other investors
Increase corporate value by emphasizing business practices that reflect CSR and ESG issues recognized and to be solved by the Group
In order to pursue its business activities and fulfill its corporate social responsibility, the Group has identified CSR priority issues, formulated medium-term CSR goals to resolve these issues, and is stepping up CSR-related efforts through the PDCA cycle. Through these initiatives, we aim to help accomplish the SDGs, which were unanimously adopted by the United Nations for achievement around the world by 2030.