Machinery
Rock Drill Machinery
As an all-round manufacturer of rock drill equipment, we are opening up the earth and supporting infrastructure work and resource development in Japan and overseas.
Approx.60% of our sales come from overseas.
We maintain a high market share in Japan as the only all-round rock drill equipment manufacturer in the country.
We produce our own core hydraulic-related equipment (high-precision processing and heat treatment).
Hydraulic breakers
A hydraulic breaker is an attachment fitted to excavators for excavating bedrock, breaking down rocks and crushing concrete structures and so forth. In order to meet a variety of needs, we supply a wide range of high-quality, highly reliable hydraulic breakers from small to super large for bedrock excavation all over the world. Our hydraulic breakers currently contribute to infrastructure development such as civil engineering work and construction sites worldwide.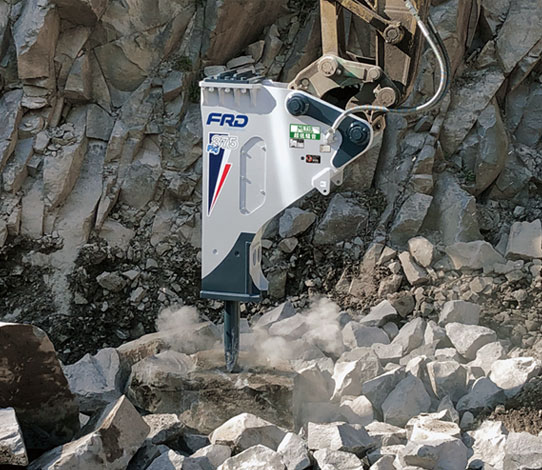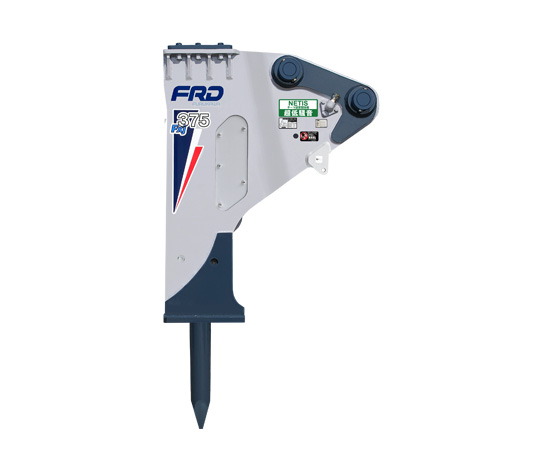 Hydraulic crawler drills
A hydraulic crawler drill is a self-propelled machine for making downward holes in rocks. Our hydraulic crawler drills are used at limestone mines and quarries and for civil engineering work and at construction sites in Japan and abroad and hold the share (65%) in the Japanese market. They can drill the most suitable holes relative to ever-changing rock conditions. Their highly evaluated, accurate and speedy drilling technology produces holes with few bends, and the drills are used at infrastructure construction and mine development.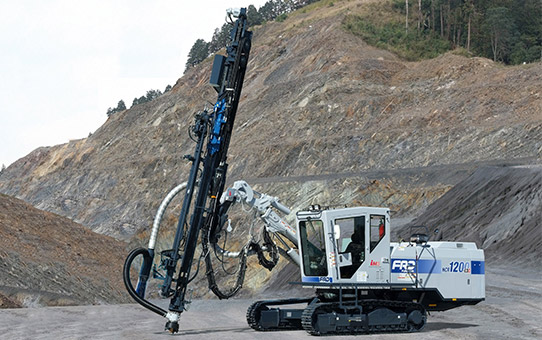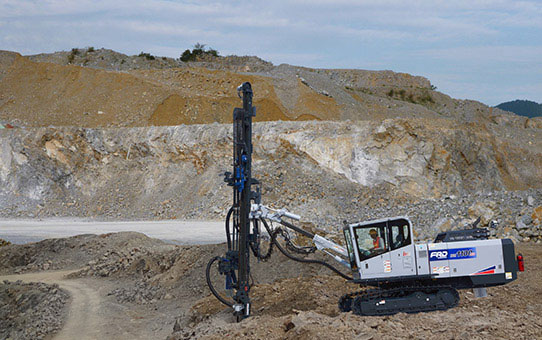 Tunnel drill jumbos
This is machinery that drills the holes into which explosives are inserted for blasting in tunnel excavation sites. We have many proven results in mountain tunnel construction for roads and railways, including for the Kanetsu Tunnel and Seikan Tunnel, and we are actively working in tunnel construction where large tunnels are lined up over long distances, such as for the planned Shinkansen and Linear Chuo Shinkansen.
In addition, we have developed and launched a fully automatic drill jumbo that automates drilling work, and are working to solve issues such as productivity improvement, the use of ICT, and unmanned working in mountain tunnel construction sites.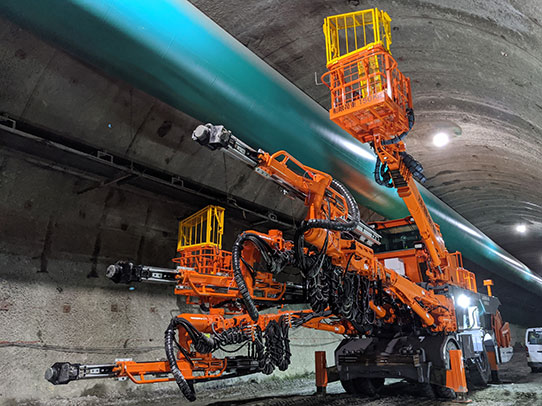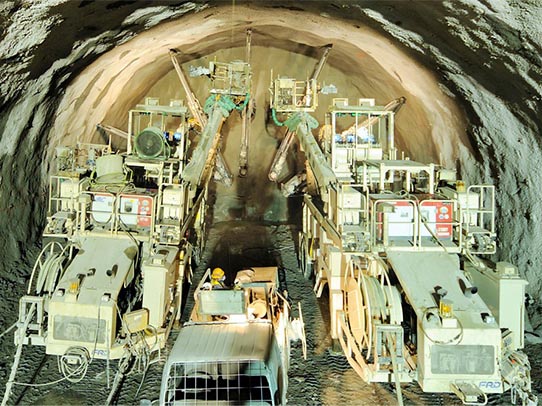 Furukawa Rock Drill Co., Ltd.
We manufactures and distributes rock drills such as Tunnel Drill Jumbos, hydraulic breakers and hydraulic crawler drills essential for drilling and crushing in infrastructure construction and mine development, etc.
When it comes to rock drills, our Group has a long history. It began when we started maintaining imported rock drills used at the Ashio Copper Mine and developed an original rock drill that could accommodate the physique of Japanese operators in 1914.
In 1961, our dedicated sales company, Furukawa Rock Drill Sales Co., Ltd. was founded. In 2005, the company merged the rock drill manufacturing Takasaki and Yoshii Works of Furukawa Co., Ltd. The amalgamation of the two works became known as the present-day Furukawa Rock Drill Co., Ltd. Based on the concept of Life Cycle Support (LCS), we are currently aiming to strengthen our provision of optimum services throughout the whole life-cycle of a machine from delivery to repair, recycling, disposal and replacement as well as reinforcing revenue bases through product distribution and stock businesses. We are continuing to work towards enhancing our domestic service support system and establishing overseas distribution channels.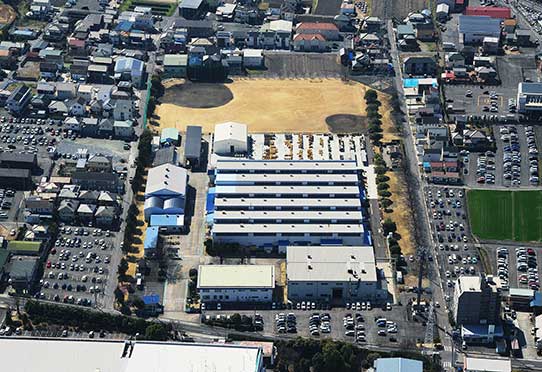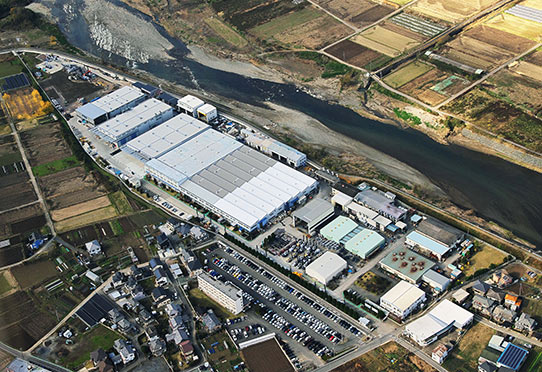 Ashio Rock Drill Co., Ltd.
Established in 1989. Specializing in the manufacture of pneumatic rock drills, small hydraulic breakers and other products. Its rock drill works started operation in the Ashio Copper Mine days, and Japan's first rock drill was developed at this works.
Established in 1972. Specializing in the manufacture of pneumatic crawler drills and other products.
FURUKAWA ROCK DRILL USA, INC.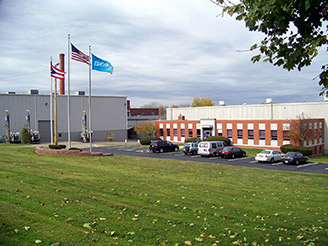 Established in 1990. Headquarters in Ohio, U.S.A., specializing in the distribution of rock drills and other products.
FURUKAWA ROCK DRILL EUROPE B.V.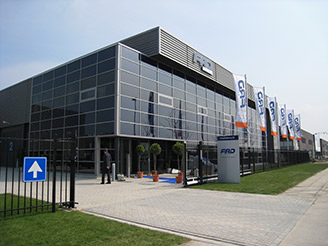 Established in 1998. Headquarters in Utrecht City in Holland, specializing in the distribution of rock drills and other products.
FURUKAWA ROCK DRILL KOREA CO.,LTD.
Established in 2003. Headquarters in Hwaseong-si, Gyeonggi-do, Korea, specializing in the distribution of rock drills and other products.
FURUKAWA ROCK DRILL (SHANGHAI) CO.,LTD.
Established in 2006. Headquarters in Shanghai, China, specializing in the distribution of rock drills and other products.
FURUKAWA ROCK DRILL INDIA PVT.LTD.
Established in 2011. Headquarters in West Bangalore, India, specializing in the distribution of rock drills and other products.
FURUKAWA ROCK DRILL LATIN AMERICA S.A.
Established in 2012. Headquarters in Panama City, Panama, specializing in the distribution of rock drills and other products.
FURUKAWA MACHINERY ASIA SDN.BHD.
Established in 2018. Headquarters in Selangor, Malaysia, specializing in the distribution of rock drills and other products.
Rock drill products that are useful in social infrastructure development.
Along with roads and railways, tunnels play a major role in social infrastructure because they enable vehicles to pass through mountainous areas in short time periods. At mountain tunnel construction sites, tunnel drill jumbos are used to drill holes into which explosives are inserted for blasting.
Accordingly, they are important machines that greatly affect the safety and efficiency of workers, as well as the cost and time of tunnel construction. The Rock Drill Machinery segment's tunnel drill jumbos have an 80% share of the domestic market. They are used in tunnel construction work for the new Hokkaido Shinkansen lines, the Linear Chuo Shinkansen Line, and other projects, as well as in ongoing construction of freeways.
In recent years, mountain tunnel construction contractors have found it difficult to attract workers due to the occurrence of accidents caused by falling rocks and the like, as well as the retirement of skilled workers. In response, Japan's Ministry of Land, Infrastructure, Transport and Tourism has been promoting "i-Construction," which means deploying ICT to help make construction sites unmanned. Accordingly, major general contractors have been accelerating their ICT efforts, including by setting up dedicated i-Construction divisions. To address these needs, we began developing a fully automated drill jumbo in 2016.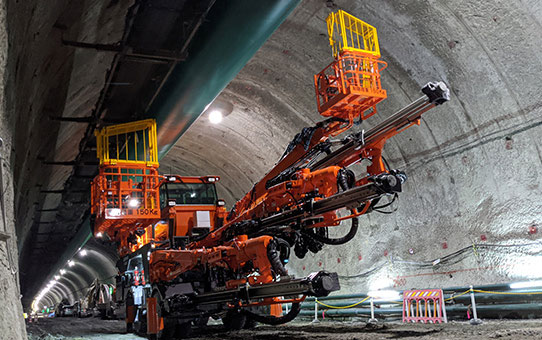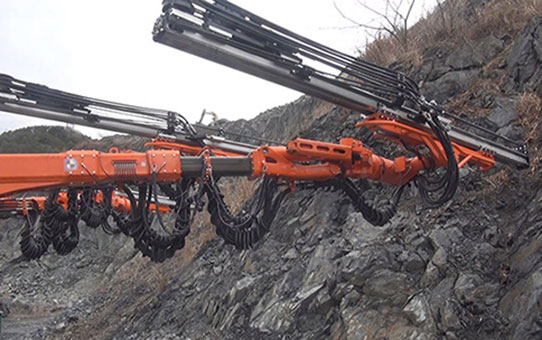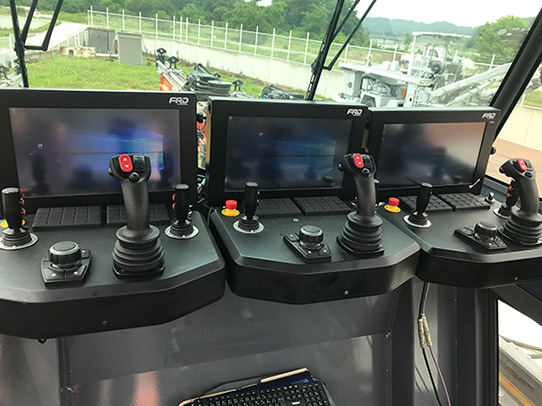 Automating the drilling process, which used to rely on the intuition and experience of skilled workers, requires the use of a surveying machine inside the tunnel to perform measurement and sensors mounted on the drill jumbo to determine the best position of the vehicle body. The tunnel face (excavation surface at the end of the tunnel) is then scanned in 3D to determine the optimal drilling position and angle. It is also necessary to automatically control each boom based on the drilling plan created from the tunnel alignment and cross-sectional alignment. Furthermore, high-precision hydraulic control is required to perform the meticulous manual operation, conventionally done by skilled workers using electrical control.
Drawing on the drilling and hydraulic control technologies accumulated by the Rock Drill Machinery segment, as well as the control system technologies of the Technology Division, we conducted repeated trial and error programming on test machines. As a result, in June 2020, four years after the start of development, we completed and launched J32RX-Hi ROBOROCK®, a fully automatic drill jumbo. We expect it to reduce the burden of workers at numerous mountain tunnel construction sites and contribute to improved construction safety, accuracy, and efficiency.
Hydraulic crawler drills are one of the main products of the Rock Drill Machinery segment. They are self-propelled rock drills that bore downwards (to open holes in the bedrock). In Japan, they are used in the mining of crushed stone and limestone, which are used as raw materials for concrete. Overseas, they are used in various mines and also in infrastructure development, such as for land leveling.
Ever since our company developed Japan's first rock drill in 1914, we have continued to take on the challenge of development and manufacturing as a rock drill manufacturer. The overseas market environment is currently deteriorating and we continue to see difficult business performance. However, in order to lay the foundation for future growth, we are working to further enhance our one-of-a-kind technologies by leveraging the experience and know-how we have accumulated, and we are working to expand our market share and to expand and strengthen our flow business and stock business by utilizing IoT technologies.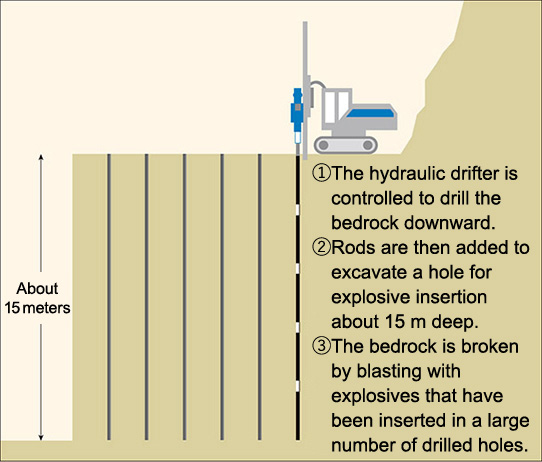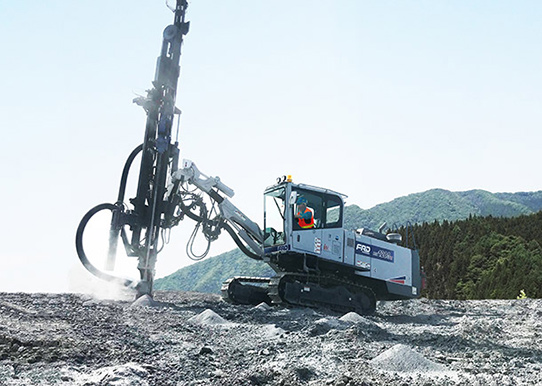 The hydraulic drifter is the core equipment of a hydraulic crawler drill and enables speedy and powerful drilling work. It crushes the hard rock with 80 to 200 revolutions and 2,000 to 5,000 blows per minute, to suit the rock quality.
In order to achieve optimum and stable drilling, the requirements for a hydraulic drifter are for the high speed and accurate control of the striking and rotation, and also for durability under high pressure and high temperature. Our company has identified the characteristics of the around 100 components of a hydraulic drifter and we have established our own design theory based on our many years of experience and know-how. In addition, we conduct the heat treatment to increase the hardness of the components ourselves, without outsourcing, and our machining is finished with an accuracy of 1/1,000 mm. In this way, we are able to manufacture high quality and high performance hydraulic drifters by conducting all the production in-house from the design to the machining, heat treatment, and assembly processes.
This is the strength of our company, and it has enabled us to achieve category leadership and uniqueness that new manufacturers cannot imitate.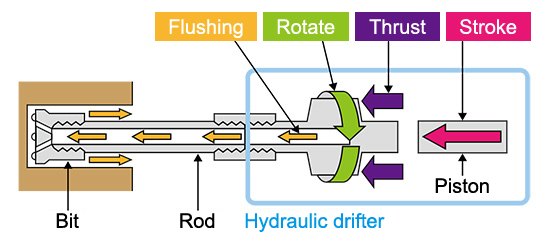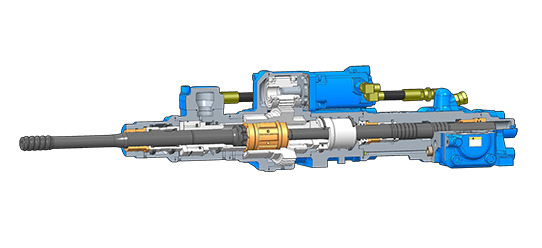 Hydraulic crawler drills are much more difficult to operate than hydraulic excavators, because it is not possible to visually confirm the state of the drilling inside the hole, so the efficiency of the work greatly depends on the skill and experience of the operator. To address this issue, from fiscal 2019 we have started to include an "operation management device" that utilizes IoT technology as standard on the machinery we have shipped within Japan.
This operation management device is not limited to simply grasping information such as the hours of work and engine speed that is conducted in the construction equipment industry, but is also used to grasp the complicated operation conditions peculiar to hydraulic crawler drills, such as the number of perforations, the length of perforations, and the striking time. By monitoring and analyzing the information obtained, we intend to prevent problems before they occur and reduce machine downtime, as well as to improve the operator drilling work and operational efficiency. We are currently working to create a unique system as a rock drill manufacturer.
We will go on to install the operation management devices on the machinery shipped overseas, in order to strengthen life cycle support, which is an issue overseas, and to strive to expand our earnings in the future in both flow business and stock business.
Inquiries about Rock Drill Machinery
Inquiries about Rock Drill Machinery
Products , Service
Hydraulic breakers / Hydraulic crushers / Hydraulic crawler drills / Pneumatic crawler drills / Down the hole drilsl & rotary drilsl / Tunnel machines / Mining machines / Concrete sprayers / Pneumatic tools