The Furukawa Company Group considers conservation of the global environment to be a major management issue, and our basic policy is that all staff conducts activities giving consideration to harmony with the environment as well as environmental improvement, and promotes a sustainable society going forward, in all areas of corporate activities.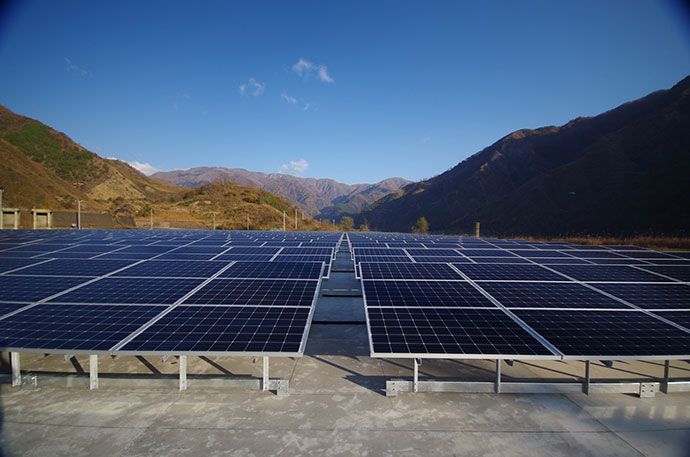 Ashio Office Solar Power Plant
Furukawa constructed a solar power plant (officially called the Furukawa Co., Ltd. Ashio Office Solar Power Plant) on the site of the former Ashio smelting works sulfuric acid plant (Ashio-machi, Nikko City, Tochigi Prefecture), and started power generation and transmission in December 2013.
The completed solar power plant has an output of 1,000 kW. The annual power generation capacity started at approximately 920,000 kWh and is expected to be approximately 850,000 kWh on average over a 20-year period. The entire amount is being sold to Tokyo Electric Power Company Holdings, Incorporated.
The Ashio area was the foundation of our company's business development and it is an important site both historically and technically. We will continue to investigate the effective use of this site, including the former Ashio smelting works site, and will actively develop activities to conserve the global environment and to contribute to local communities.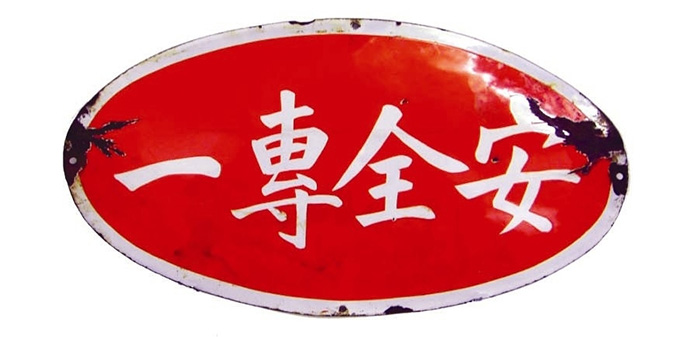 "Anzen Sen'ichi" Registered asTrademark
The predecessor of "Anzen Daiichi" (=Safety First) was "Anzen Senichi"
Furukawa filed a trademark application for the "Anzen Senichi" mark and obtained trademark registration in March 2020. The Ashio Copper Mine, which built the development of the Furukawa Company Group, was the birthplace of pollution-control technology and the industrial safety movement in Japan. After a visit to the United States to study copper mining and smelting technology, Masayuki Odagawa, the manager of the Furukawa Kogyo Ashio Mining Office (now, the Furukawa Co., Ltd. Ashio Office), brought back the concept of "Safety First" that was advocated by an American steel company and translated it as "Anzen Senichi".
After that, "Anzen Senichi" safety first signs were posted at the Ashio Copper Mine to instill safety awareness among the employees and promote safety activities. This is said to be the beginning of the safety movement in Japanese industry. The predecessor of the "Anzen Daiichi" (=Safety First) which is now displayed at construction sites and factories was "Anzen Senichi" and that message has been firmly inherited by the Japanese industrial movement.
Furukawa Wins Development Bank of Japan's Highest Environmental Rating for Seventh Consecutive Year
Furukawa gets financing from the Development Bank of Japan Inc. (DBJ) based on our DBJ Environmental Rating.Furukawa obtained DBJ's highest environmental rating on July 30, 2021.
For this evaluation, we have established a group-wide environmental management system centered on the Environmental & Safety Management Committee. We have also undertaken constant efforts to reduce environmental risks in a wide range of business areas. That includes efforts to improve our environmental performance by formulating our fourth medium-term reduction plan. Additionally, this fiscal year, we added to our Vision for 2025 "Furukawa Power & Passion 150", clear statements to the effect that we will contribute to solving social issues through our products and services. We are also working to expand sales of environmentally-friendly products and reduce environmental impacts in society by having calculations done regarding the contributions made to carbon reductions when using our products, and have been subsequently praised highly for these and other such efforts. This meant that for the seventh year in a row, we have received the highest rating available ("Excellent Advanced Environmental Initiatives").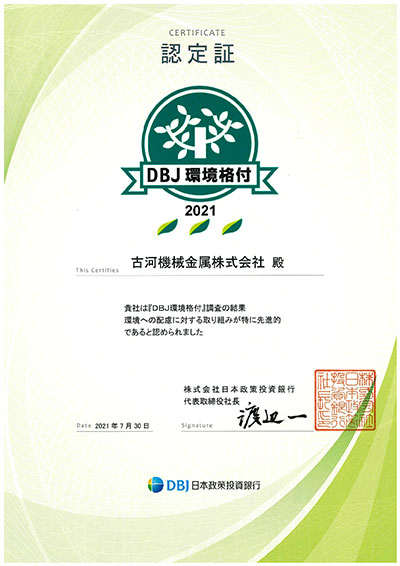 | Company name | Date of acquisition | ISO certification body |
| --- | --- | --- |
| Furukawa Unic Corporation Sakura Works. | November 30, 2001. | Japan Quality Assurance Organization. |
| Furukawa Industries Machinery Systems Co., Ltd. Oyama Tochigi Works.* | October 22, 2002. | Nippon Kaiji Kyokai (ClassNK). |
| Furukawa Co., Ltd. Technology Division. | January 14, 2004. | Japanese Standards Association (JSA). |
| Furukawa Rock Drill Co., Ltd. Takasaki Yoshii Works. | April 28, 2004. | TÜV Rheinland Japan Ltd. |
| Furukawa Chemicals Co., Ltd.Osaka Works. | January 27, 2005. | JIC QUALITY ASSURANCE LTD. |
| Furukawa Denshi Co., Ltd. Iwaki Works. | March 4, 2005. | Japan Quality Assurance Organization. |
| Gunma Kankyo Recycle Center Co., Ltd. | January 26, 2010. | Management System Assessment Center. |
| Taian Furukawa Unic Crane Co., Ltd. | June 15, 2018. | Shanghai Audit Center of Quality System. |
*

Tochigi works acquired integrated certification with the Oyama works on June 19, 2009.