Corporate Culture and Cultivation of Human Resources
The Furukawa Company Group employs talented personnel who will actively take on challenges in all things. At the same time, we recognize the diversity of individual values and endeavor to create a corporate culture that is free of human rights violations and discrimination and in which personnel receive fair evaluations and find their work rewarding.
Development of Human Resources
In the Furukawa Company Group, we use all types of human resource development systems to develop professional talent and to create work environments that enable our employees to exercise their abilities to the fullest. These are the ways in which we seek to optimize the Group's business framework and maximize our corporate value.
Employment Hierarchy-specific Training
The Furukawa Company Group's employment hierarchy-specific training helps employees develop the ability to address societal changes while acquiring the basic knowledge necessary for their respective positions. The extensive training program is organized by level of the employment-hierarchy, encompassing newly hired, second year, third year, fifth year, eighth year, and tenth year employees, newly appointed managers, and section managers.
The yearly training program for newly hired employees incorporates training pertaining to the Ashio Copper Mine's history, antipollution measures, the present status of safety management, and afforestation initiatives.
Training Tailored to Areas of Expertise and Occupations
We implement training tailored to employees' areas of expertise and job performance, thereby enabling them to gain extensive knowledge and acquire specialized skills in their respective fields. Meanwhile, we actively encourage our employees to participate in external seminars on specialized subjects, and to gain public qualifications. We also endeavor to develop professional talent equipped with extensive knowledge of cutting-edge technologies and social trends by supporting their involvement in educational organizations and academic societies outside of the workplace.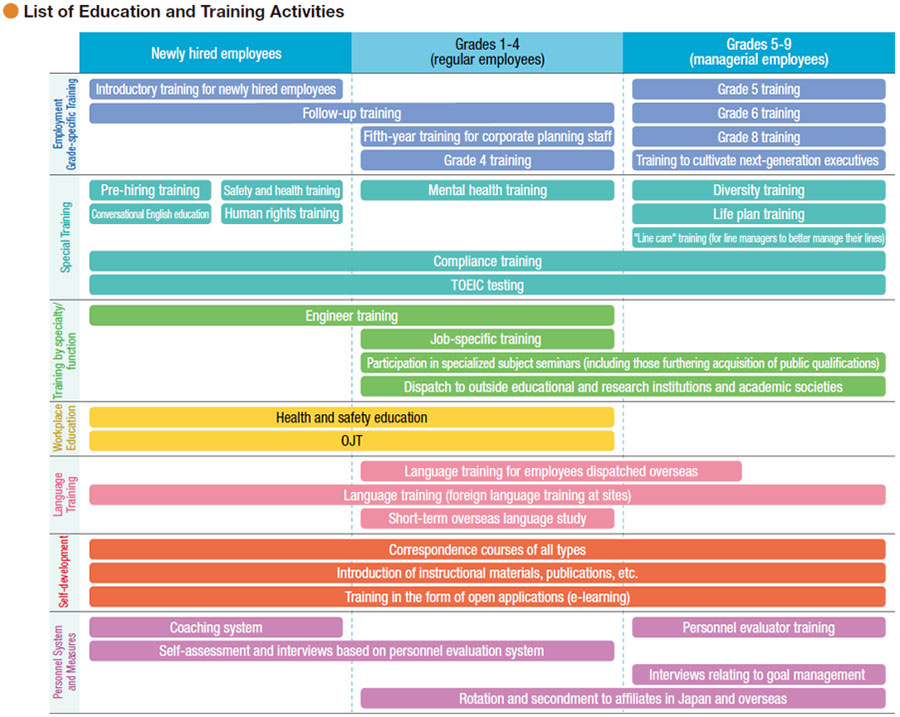 Personnel Evaluation System
Fair and Appropriate Evaluation
In the Furukawa Company Group, evaluations are graded by work performance. We make every effort to guide, cultivate, and develop the capabilities of our employees through evaluation of their job performance, motivation, skills, and so on based on a personnel evaluation system that is founded upon a role grade system. At the same time, we also take steps to provide for fair and appropriate advancement in wages, bonuses, and retirement allowances as well as in grade, and we provide an environment that enables motivated employees to engage in activity without undue stress or worry.
Communication to Facilitate Training of Subordinates
In the Furukawa Company Group, in addition to the daily communication that takes place between managers and their employees, we conduct between immediate supervisors and their subordinates on a twice yearly basis. The interviews enable managers to furnish feedback to employees regarding their work, achievements, points of self-reflection, and findings of performance evaluations. Upon having reviewed specifics of employee self-assessments, managers then also furnish advice to employees, verify targets that have been established, and share details in that regard. Meanwhile, supervisors also provide their assessments with respect to the selfanalysis. The process of undergoing straightforward performance assessments by their supervisors enables employees to scrutinize themselves on a regular basis, thereby helps fuel their motivation to pursue further personal development.
Diversity of Employment and Equality of Opportunity
The Furukawa Company Group does not engage in any discrimination whatsoever with regard to human rights, faith, gender, disabilities, and so on in employment. We strive to provide opportunity equality. The Furukawa Company Group also engages in a wide variety of businesses, so we formulate staffing and personnel plans extending to group companies with a focus on such matters as expanding business and improving productivity, and we are striving to provide stability of employment.
The Furukawa Company Group has established a code of conduct calling for its employees to respect basic human rights and refrain from using discriminatory language, and accordingly has all of its newly hired employees take part in human rights training. In their training, employees learn about creating a comfortable work environment as well as about specific cases leading to human rights violations.
Harassment and Discrimination Prohibited
The Furukawa Company Group prohibits all forms of harassment and discrimination, premised on our commitment to recognizing the diverse values of individuals and accordingly creating a rewarding corporate culture absent of human rights violations and discrimination, where individuals are evaluated fairly. Moreover, we resolutely take action against harassment and discrimination based on our internal rules.
Employment of Older Workers
On April 1, 2020, we raised the official retirement age from 60 to 65 to help older workers enjoy stable employment and more opportunities to flourish. We expect them to play active roles in endeavors such as training our mid-level and younger employees by imparting the skills they have developed over their long careers.
Hiring People with Disabilities
The Furukawa Company Group hires people with disabilities at various workplaces and for various types of work, thereby promoting their independence and participation in society.
Given its active pursuit of overseas expansion, the Furukawa Company Group does not base its hiring decisions on nationality. Moreover, we strive to deepen partnerships that transcend nationality as we promote a spirit of mutual respect for individual differences.
Support for Company Representatives Stationed Overseas
Our employees who are stationed in regions with environments differing greatly from Japan's are more frequently subject to the risk of accidents, incidents, disasters, illnesses, and so on that are unique to those regions. They also face language problems, and their lack of familiarity with the local environments reduces their ability to deal with risks. The Furukawa Company Group therefore makes every effort to mitigate their risks by such means as preparation of emergency response manuals, education of employees, and thoroughgoing implementation of crisis management frameworks and systems for confirming the safety and whereabouts of employees. Company representatives who are accompanied by family members at their overseas stations must also be concerned about the health of their families and the safety of their everyday life. At the Furukawa Company Group, we have systems of all kinds to support the overseas life of accompanying family members as well by means of health examinations, assistance with educational and learning expenses, shipment of goods from Japan, and other such services.
Overseas station locations: United States, Holland, Panama, India, Thailand, Malaysia, etc.
We are taking active measures to assure our employees' health in body and mind as well as to realize their work-life balance through our efforts to correct long working hours and ensure that working hours are appropriate. As part of our measures to support cultivation of the next generation, not only do we formulate and execute a general employer action plan, but we also promote improvement of the workplace environment to make it easier for employees to take part in child rearing and nursing care.
Empowering the Female Workforce
The company continues working actively to recruit and employ women. To that end, we drew up our Action Plan for Promoting Support for Female Employees of April 1, 2016, and we are gradually expanding systems for empowering women to play more active roles. By providing paid leave to cover a part of time taken off to care for infants and toddlers, we are also expanding our system to support employees who are engaged in childrearing.
Employee Health Management
At the Furukawa Company Group's employee health management departments, we monitor the health of our employees particularly through our regularly scheduled physical examinations and special physical examinations for our employees who handle specified hazardous substances. Meanwhile, on the basis of such physical examination outcomes we also provide health-related guidance and provide support with respect to employee health maintenance. We also safeguard our employees from the effects of second-hand smoke by setting up separate smoking areas as stipulated under Japan's Health Promotion Act.
In addition to health guidance based on the results of regularly scheduled physical examinations and other such care, we are also cooperating with occupational physicians, personnel and labor affairs representatives, and employee supervisors, and coordinating with specialized institutions and medical specialists outside the Group, to continue our assistance for mental health care and support for employees returning to the workplace. We have also created a Furukawa Company Group Mental Health Promotion Plan and set concrete targets for becoming a corporation that maintains mental health while providing a safe and pleasant place to work. To this end we are continuing initiatives in each part of the Four Areas of Care.
Furukawa Company Group Provides Four Areas of Care
| | |
| --- | --- |
| Self-care. | Promote earlier recognition of stress by performance of self-check and provide guidance on self-care through training. |
| Line care. | Organizational diagnostics provide screening for high workplace stress, implement improvements to workplace environment, and conduct line-care training for managers. |
| Care by industrial health staff and others in the Group. | Occupational physicians provide individual consultation and referral to outside specialists. |
| Care by resources outside the Group. | Toll-free telephone consultation. |
Occupational Safety and Health
The Furukawa Company Group is implementing a variety of occupational safety and health activities in accordance with our Basic Principles of Occupational Safety and Health and our Occupational Safety and Health Policies.
We are pursuing activities to assure a comfortable workplace by making effective use of working environment measurement results and other such means. We are also promoting activities such as thoroughgoing implementation of before-work meetings, enhancement of "KYT" hazard prediction training, mitigation of near-miss incidents, solution proposals, and so on, to help realize our goal of zero accidents and zero disasters.
In addition, we are committed to compliance with laws and regulations related to occupational safety and health, and when laws and regulations are amended, we take steps through Health and Safety Committees and other such bodies to explain the changes, make them widely known, and foster understanding of them among employees and other related parties.