The Furukawa Company Group has a diversified portfolio of business in the fields of construction and mining machinery (rock drills), UNIC machinery, metals, electronic materials, chemicals and so on, but many of you may not know exactly what we do. However, when you have a look around you, you will realize that more products and technologies of the Furukawa Company Group than you imagined are being utilized in everyday life, such as in industrial and urban infrastructures, electronic devices, and so on, serving to provide a more convenient, affluent life, and to make a safer society.
Products and Technologies Utilized in Every Corner of Our Lives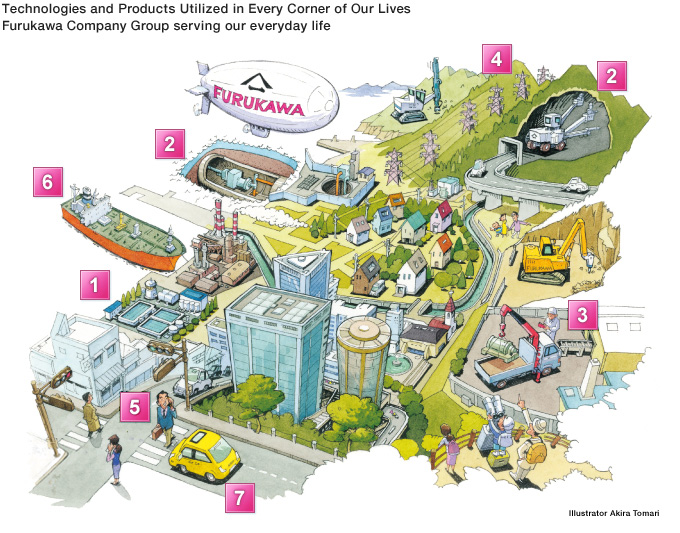 Sewage treatment plants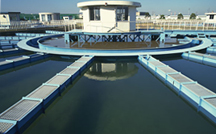 Sewage treatment systems are an important part of infrastructure as they treat domestic and industrial waste water and support our lives in cities. In Japan, they became common after the war. Our sewage pumps are used in a number of sewage treatment plants operated by local governments across Japan.
Tunnel construction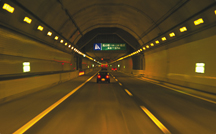 A tunnel drill jumbo is a machine used to drill holes in rocks for setting blasting powder. Our tunnel drill jumbos are used at a number of road and rail tunnel construction sites in the mountains in Japan. In addition, our shield construction pumps to transport slurry out of tunnels are indispensable when building underground tunnels with the slurry shield construction method.
UNIC cranes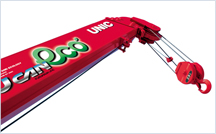 Truck-mounted cranes which are often spotted at construction sites around town, UNIC cranes are machines which efficiently perform cargo-handling processes; from hoisting and loading to transporting and set construction. Our UNIC cranes have an overwhelming share in the Japanese market and are known as UNIC 'red cranes'.
Copper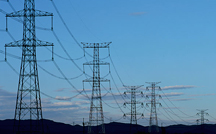 The copper business originated at the time of the company's foundation. Copper has high electrical conductivity and is highly antibacterial. It is one of the most common metals used in many types of products such as inner wires of automobiles, copper coins and wires, as well as in printed circuit boards, which are major components of electrical appliances.
Electronic devices such as mobile phones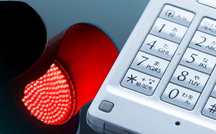 One of the electronic materials indispensable for our information society is the gallium arsenide semiconductor, used in a wide variety of products including electronic devices such as mobile phones, red LEDs used in traffic lights, and laser diodes in DVDs. These gallium arsenide semiconductors are made with high-purity metallic arsenic and we are the only high-purity metallic arsenic manufacturer in Japan.
Ships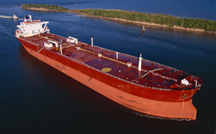 Ship-bottom paint is applied on the part of a ship that lies below the water line in order to prevent barnacle build-up. We are manufacturing red powered pigment, cuprous oxide, used as antifoulant in these ship-bottom paints. Recently, we developed cuprous oxide suitable for organotin-free shop-bottom paints to prevent marine pollution, and thus are making significant contributions to environmental conservation.
Cars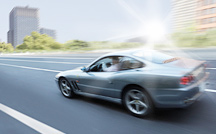 Currently, most components essential in cars such as engines, steering and air conditioners are electronically controlled. Our coils are often used in electronic control units. They are expected to be used for rechargers for electric cars which are being developed.