We propose various types of air pollution control facilities and water treatment equipment, and when it comes to electrostatic precipitators in particular, we have a history of over 50 years of manufacturing.
We also offer distinctive products such as advanced exhaust gas treatment facilities, deodorizing equipment, sewage volume reduction equipment and foreign object removers/sunk sand removers.
Air Pollution Control Equipment
Electrostatic Precipitators (Dry/Wet)

The history of our electrostatic precipitators dates back to 1916 when we performed industrial experiments on them at the Ashio Copper Mine for the first time in Japan. The technologies that we have accumulated over the many years are highly valued by users in a variety of fields.
Highly-Effective Filter-Type Electrostatic Precipitators

Conventional electrostatic precipitators are good for high temperature exhaust gas treatment however they have poorer dust particle collecting capability than bag filters. We applied a unique idea utilizing our accumulated technologies to develop a highly-efficient filter electrostatic precipitator with little pressure loss and low energy consumption, and have a performance level comparable with bag filters.
Harmful Gas Removal Equipment (Hydrogen Chloride Removal Equipment/Activated Carbon Spray Equipment)

We developed and offer fast-reaction dry hazardous gas removal equipment based on our great deal of experience in delivering dry hydrogen chloride removal equipment and electrostatic precipitators for waste incinerators in cities.
High-Performance Dioxin Removal Systems (Activated Carbon Adsorption Towers, etc)

Utilizing our exhaust gas treatment technologies and experience over the years, we offer high-performance dioxin removal systems by activated carbon adsorption. This system can be supplied as a VOC removal system with the use of an appropriate type of activated carbon.
Water Supply/Sewage Systems-Related Machinery
Foreign Object Remover/Sunk Sand Remover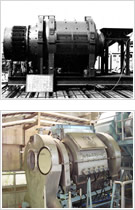 As sands in sewage water contain contaminants, they cannot be completely discharged out of the system due to bad odor and other problems.
Therefore, we developed machinery to crush contaminants attached to foreign objects and sunk sands in sewage water and separate them before discharging them out of the system with our unique technology using rubber lining balls.